ACDSee Ultimate 9
The Best Alternative to Lightroom
Adobe Lightroom is one of the more prevalent photo editing software out there. It organizes images while also allowing you to edit with some powerful tools. However, just because something is popular doesn't mean it's right for you.
Photo Editing Process
ACDSee is a great alternative to Lightroom since it provides an alternate workflow to Lightroom's process of importing, editing and exporting files. Lightroom works as an independent catalogue, while ACDSee operates live, direct from disk to disk. Because Lightroom imports files from the hard drive and duplicates images to make virtual copies, it consumes a large amount of disk space, making it much slower than ACDSee. Also, if you relocate your images within your hard drive, as most people do, your Lightroom catalogue will become corrupted. These issues do not exist with ACDSee, as the software works similar to Windows File Explorer.
Lightroom Editing Process
1. Open Lightroom
2. Select files from computer to import
3. Import photos to Lightroom
4. Select files to edit
5. Click Develop
6. Edit photo
7. Export Photo
ACDSee Editing Process
1.Open ACDSee Ultimate 9
2. Select the files you wish to edit on your computer
3.Click Develop or Edit
4. Save (or save as) ACDC image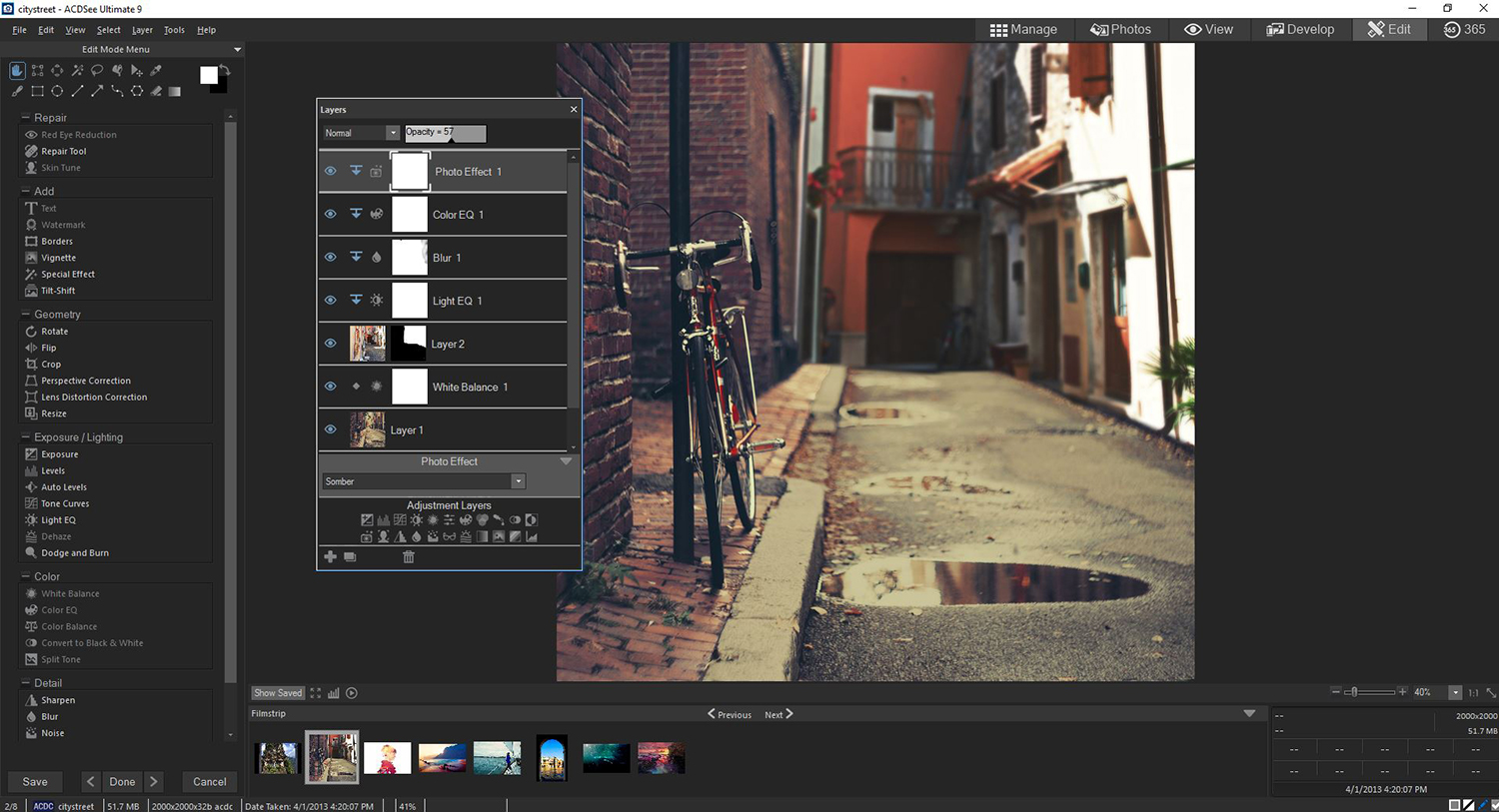 Adjustment Layers

ACDSee Pro 9 and ACDSee Ultimate 9 provide advanced image organizing and post-processing tools much like Lightroom, however ACDSee Ultimate 9 also features layer-based editing with Adjustment Layers. The non-destructive editing and re-editable adjustment layers in ACDSee Ultimate 9 perform similarly to those in Adobe Photoshop, with the added ability to apply a tool globally, as well as solely on an adjustment layer.

Adjustment Layers Features

Lighting
Color
Photo effects
Clarity
Skin tuning
Vignette
Sharpening
Blurring
Noise removal
Layer masks
Opacity
Dehaze

Availability

ACDSee Ultimate 9 has the ability to manage, view, develop, and edit an image within the same application, making it a great replacement for Lightroom. If you are looking for an alternative to Lightroom, a single software program that encompasses your entire workflow, look no further than ACDSee Ultimate 9.

Tags: acdsee, alternative, desktop, exposure, importing, lighting control, Lightroom, managing, managing pictures, metadata, organize photo, photo management software, photo viewing software, sharing, special effects, viewing, viewing pictures